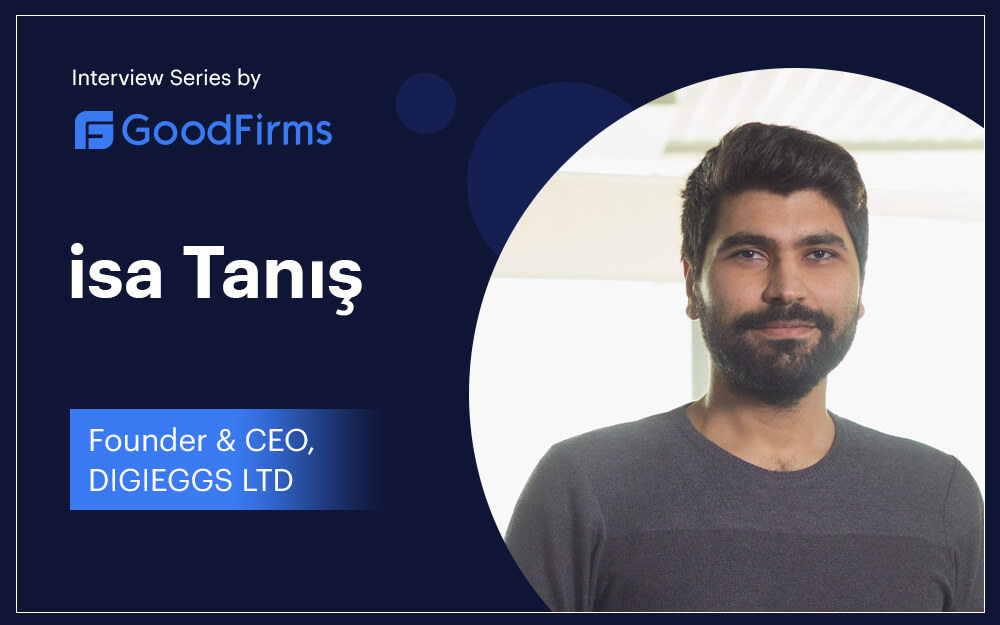 From Technology Zone to Development Sphere, DIGIEGGS LTD Caters its Clients Businesses Significantly
GoodFirms
Two enthusiastic developers shaped their company DIGIEGGS in the IT industry and accelerated the pace of supplies in the Technology Development Zone. Read the entire story in the words of İsa Tanış – the Founder and CEO of DIGIEGGS.
DIGIEGGS is a software development consulting company established in 2014 in Turkey to develop comprehensive company-specific projects to provide various consultancy support facilities to many companies.
DIGIEGGS holds 8 years of experience in the IT industry and currently provides exceptional mobile application development and designing services with closely following the market trends in different specialties.
In an interview with GoodFirms, İsa Tanış – the Founder and CEO of DIGIEGGS shared how the company came into formation and is performing exceptionally to meet the ever-rising demand of the IT industry.
İsa Tanış started the interview by sharing the fact that he and one of his companions incorporated DIGIEGGS, with a focus on solving problems and challenges related to high-end technical projects. The team was then operating for both contract projects and their own in-house projects. The company's key clients are from the UK and Turkey and other parts of the world.
İsa Tanış admits that the DIGIEGGS team comprises 15 members, including developers with different stacks, designers, and project managers working in the same office. A few permanent team members of the company also work remotely from different locations and countries. The company provides all the custom-stack services from UI/UX design to development and production and that too as per the need of their clients and projects.
The company values two important aspects that makes it different from its competitors. These aspects include individual approach in the team and harmony with the client. "With most of our clients our relations are long term and repetitive therefore our aim is mostly to provide an engagement with them which makes them feel like they are working with an internal team," İsa Tanış adds.
While asking about the industries DIGIEGGS generally caters to, İsa Tanış claims that the company is far beyond the niche-specific areas. However, they have long-term projects that help them have industry-wide expertise related to transportation, business services, booking & subscription services. Mobile & Desktop App Design and Development Services are primarily offered by the company to its worldwide clientele. Mere emphasis is given on product performance improvements, providing permanent solutions to technical obstacles in the projects. Due to its excellent services and quality and high-speed performance, DIGIEGGS is recognized as a top mobile app development company in Turkey and is leading its way across other countries of the world. The client review displayed below shows how it serves its clients and is appreciated best for the services given.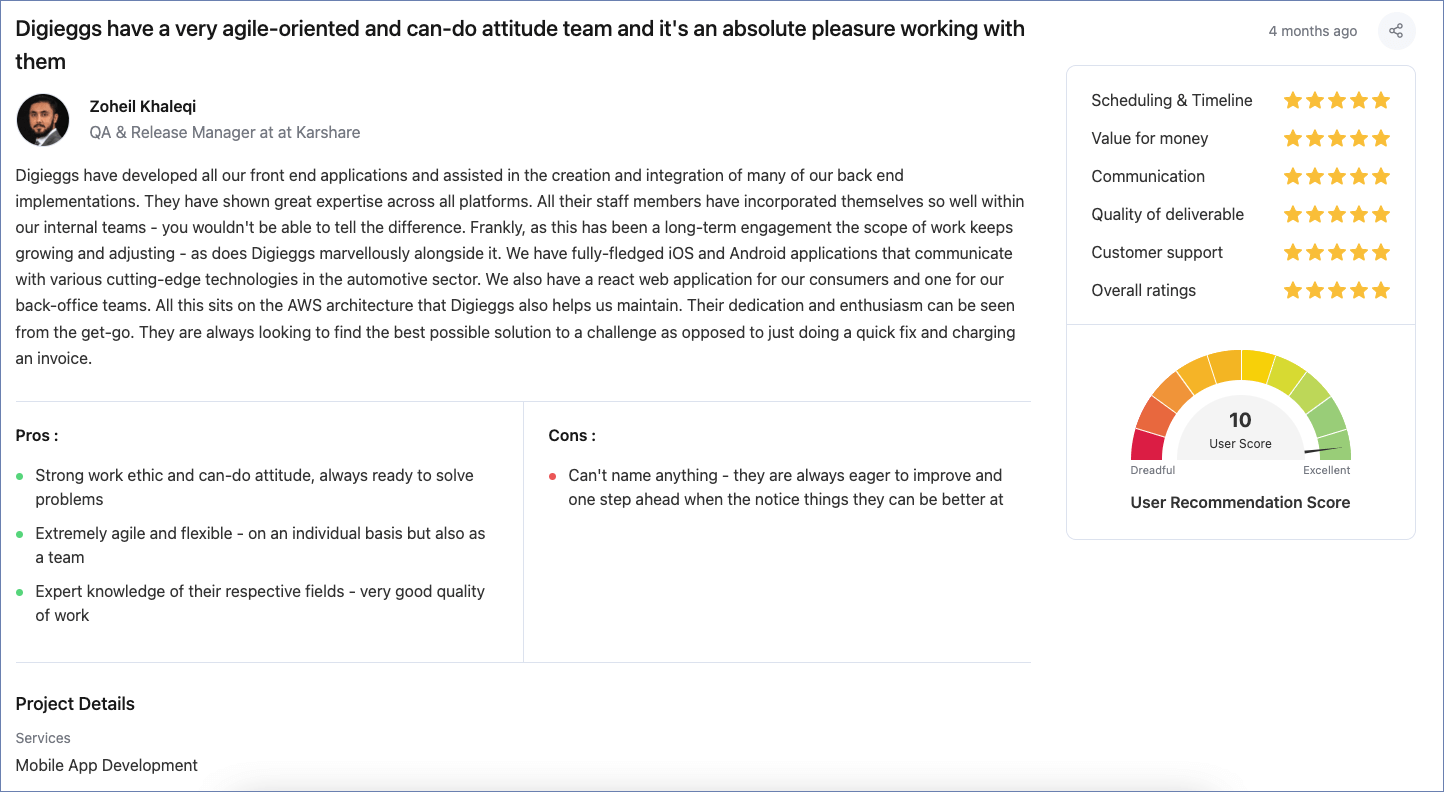 İsa Tanış agrees on re-evaluating the ongoing work process by considering the project's expanse in each stage. Talented professionals in the team always try to reduce the project's complexity by making it scalable and flexible to retain their customers for long. Even the clients can reach the design, development, or product-related professional directly through a designated channel in the company to get their queries resolved. More stress is given on providing the best support process to acquire satisfactory feedback for further improvements.
İsa Tanış claims that DIGIEGGS charges a fixed daily rate for their services based on the designated members of our team. Hourly, at least $20 is charged as a minimum requirement per project member. The minimum and maximum project range may go between $30 and $600 for a particular project.
İsa Tanış concludes the interview by giving hope for progress for the company in the coming future. He shared that they want to be more internationally recognized as well as acclaimed for their marvelous services and abilities to serve their clients across the world. "In short, we want to become one of the main full-service tech companies in the world with a great team, also continuously launching and investing in its own products and start-ups," he summarized.
The detailed interview can be glanced at the GoodFirms company page.
About GoodFirms
Washington, D.C.-based GoodFirms is a maverick B2B research and reviews firm that aligns its efforts in finding web development and web design service agencies delivering unparalleled services to its clients. GoodFirms' extensive research process ranks the companies, boosts their online reputation, and helps service seekers pick the right technology partner that meets their business needs.

About The Author
Prepared by Anna Stark, a Content Writer at GoodFirms, who bridges the gap between service seekers and service providers. Anna's dominant role lingers to form every company's achievement and critical attributes into words. She strongly believes in the charm of words and equips new approaches that work, always with concepts.