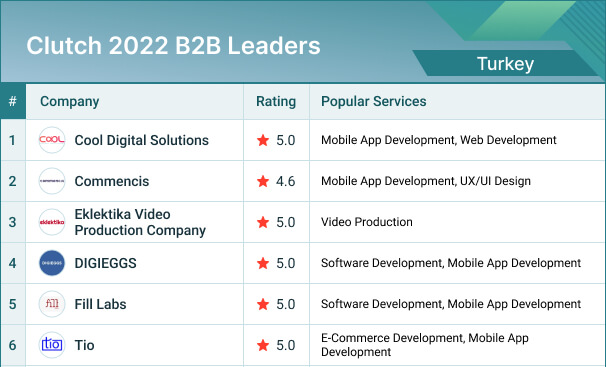 The United Nations Development Programme in Turkey is spearheading a monumental endeavor to empower women, promote equality, and drive SMEs towards a brighter digital economy. Authorities believe that investing and nurturing digital growth can help local industries bounce back from pandemic-brought struggles.
In its report, Clutch is awarding the top B2B companies in Turkey that provided stellar customer services and solutions. Throughout the year, Clutch analysts go through extensive research to accurately determine the leaders from different industries, categories, and locations. Each firm chosen met the platform's standards of excellence and is undoubtedly reliable.
"Clutch is beyond proud to witness the journies of these amazing leaders," said Clutch Senior Customer Experience Manager Badr Bouhamdan. "It's inspiring to see their relentless dedication and unwavering love for their craft. We hope to see more of their success this 2022!"
All year round, Clutch searches for the top-tier service providers. Learn how your team can qualify for the next ranking, sign up and create a vendor profile now.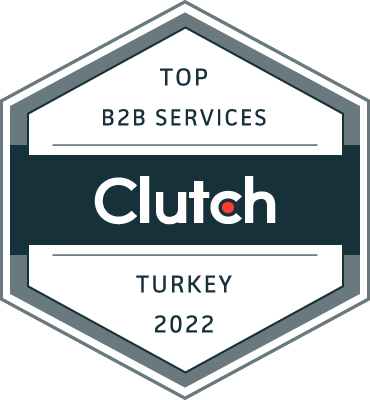 Results are a snapshot of Clutch's Leaders Matrices on May 10, 2022. Rankings are dynamic and this report may not reflect the rankings currently listed on Clutch's website.
About Clutch
Clutch is the leading ratings and reviews platform for IT, marketing, and business service providers. Each month, over half a million buyers and sellers of services use the Clutch platform, and the user base is growing over 50% a year. Clutch has been recognized by Inc. Magazine as one of the 500 fastest growing companies in the U.S. and has been listed as a top 50 startup by LinkedIn.